It is apparent to all those jobs employers what a CV is, but the common stereotype is that only those who are graduate. Still, the degree holder can have a false CV; students too can have holders the individual has transferable skills that can be listed on the CV.
Suppose you are just like me some years ago, when I was trying to build my CV, thinking all I needed to put in my CV was my degree realized that doing some research, I realized that I needed to do more research than just my degree and my skills. Find out that I need to put achievements in college and high school, skills, contact, education achievements, etc.
So if you also like me or are not but just tried researching a CV and how to make one, you are on the right track. This post will help educate you on the concept of a resume by detailing its importance and how to create your CV easily; I will also provide you with some templates and videos on how to make a resume.
What Is A Curriculum Vitae
A CV, which stands for curriculum vitae, is a document used when applying for a job(s). Its function allows you to summerise your education, skills, and experiences, enabling you to sell your abilities to potential employers successfully.
Difference Between A Curriculum Vitae (CV) And A Resume
A CV is said to be the same as a Resume, though there is a slight difference: a CV is more content than a Curriculum: assume it is a one to two-page document presenting key facts about your professional educational experience, critical ground, and skills.  But a CV(Curriculum Vitae) is a longer document that details the whole course of your career. A resume is used for job search, while a CV is used for academic purposes.
Why Is A Curriculum Vitae (CV) Important?
A CV is essential because it gives an applicant a chance to show a prospective employer the best of what the applicant has. It sells the skills and experience of the applicant, indicating to the employer that you are the right person for the job. Making a good impression is very important in today's competitive job market. So, your CV will be the contact with employers, so it is essential to get it right.
Types Of Curriculum Vitae (CV)
Various CV types showcase work experience, industry knowledge, and skill sets in alternative ways, ranging from Chronological CVs, which highlight experience in reverse chronological order to Functional CVs, focussing on transferable skills. Here is an overview of some of the different types of CV, and don't forget: needs and desires can change ge; make sure before you step out looking for a new match aga; make you assess what you want and are going after the right type for you! The following are the best types of CV Format.
Reverse Chronological CV Format
Functional CV Format
Combination CV Format
Reverse Chronological CV Format
Reverse Chronological CV Format: The reverse Chronological CV Format is a type of CB format in which you list your relevant work experience in Chronological reverse order, beginning with your most recent position chronologically backward. For each job, most, provide the dates, location nas, the name of the employer, and briefly outline, yes, key responsibility, and achieve briefly.
Chronological CV Format Template
A reverse-chronological CV typically includes the following sections, though they may add additional units to provide more insights into their relevant additional units per experience:
Header with contact information
Create a CV profile (also called a professional summary or objective)
Describe your Work experience
Detail your Education background
Present Relevant Skills
Add extra sessions as needed. E.g., Licenses and certifications, Awards and honors, Publications and speaking engagements, Memberships in professional associations, Research projects, Volunteer experience, etc.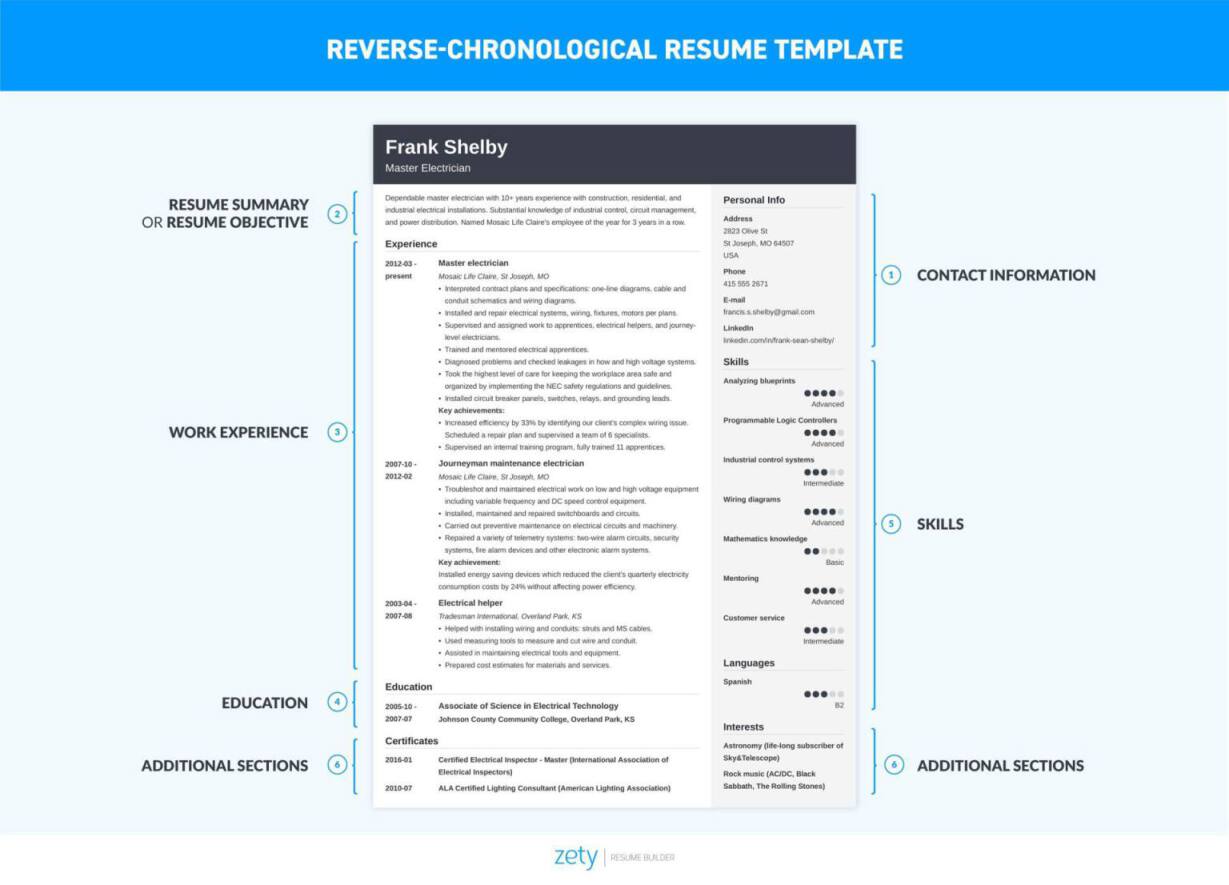 When Am I To Use a Reverse-Chronological CV
Candidates may need to submit a CV when applying for academia, research, or science roles. Internationally, a CV is equivalent to a resume. When asked to submit a CV, using the reverse-chronological format is beneficial if you have at least a few years of professional experience. This format works well because it emphasizes your work history section and helps you show how your career has progressed.
If you're a recent graduate or entering a new field, you might use the functional resume format that places your skills section above your work history. That design emphasizes your prior, potentially less relevant roles by focusing on the transferable skills you developed and used and can offer as a job candidate.
Functional CV Format
Functional CV Format: A functional CV Format is a type of formation which showcase skills over experience. The primary purpose of a functional CV is to draw attention to abilities rather than focusing on a chronological overview of one's work history. Because of its properties, the functional CV format is sometimes called a "skilled-based resume.
Functional CV Format Template 
Let's start with the basic layout of sections on a functional resume:
Name and Job Title
Contact Information—address, phone number, email, and social media accounts (if necessary)
Resume Objective—emphasize skills and achievements
Skills Summary—highlight your skills in this section of your functional resume
Work Experience—smaller section but can be omitted
Education—highest degree and most relevant certificates
Additional Skills—extra to the position you're applying to
When Am I To Use a Functional CV Format
In some cases, a functional CV format is not always the best; in others, it is suitable. One, and in other sons to consider before choosing this type of
When you don't have recent experience: In this case, it is advisable to use a functional cv format; assuming it's been a few years(or more) since you last held a traditional job, you may not want your less-than-recent work history to be the first thing an employer notice when they pull up your resume. Leading with your skills could be a good way to pique a recruiter's interest before they have significant to review your dates of employment.
When you're making a significant career change: If you've collected a list of transferable skills throughout your work experience but have never used them in the context of a single role, a skills-based resume might allow you to demonstrate how your unique abilities will translate into the next act of your career.
When you don't have much actual work experience(s): Functional CVs are good; they enable you to be a little more creative with your work history and allow for some flexibility in the skills you choose to highlight. For instance, you probably developed excellent research skills as a student, solid scheduling experience when you headed the PTA committee, or exceptional customer service acumen when you volunteered for that political campaign.
When your work history is all over the place: In this case, if you have helped with a string of short-term positions or worked in a variety of roles (I'm looking at you, freelancers and temp workers), using a functional resume may be a great way to organize your experience into a more cohesive story.
When your relevant experience isn't rotted in traditional work: Let's say you're an avid cyclist. Or a model plane enthusiast who wants to apply for a customer service job at a bike shop or a docent post at an aviation museum. Or maybe you've volunteered in a shop kitchen for the past few years and want to land a job as a server. You'd probably want to feature the skills you've picked as a volunteer or hobbyist while highlighting your other, more traditional experience.
Combination CV Format
Combination CV Format: A combination resume template, a hybrid resume, or a chrono-functional resume breaks the usual skills or work experience choice. They are capable of doing both. A combination resume emphasizes relevant skills and accomplishments at the top of the resume. It also lists "professional history in "reverse-chronological," meaning that the most recent experiences come first.
The combination resume format is a good choice if you are a junior or mid-level candidate with rea few years of work experience after college. A combination resume format will highlight skills you've acquired as an early career professional and help connect. For example, this format may be beneficial once you have a few years of work experience after college. Those skills to your professional experience.
The combination CV format is essential because; (1) It lets you present a quick overview of your employment history and the transferable areas. (2) While at the same time, showing the HR manager your top skills and qualifications.
Combination CV Format Template
When creating a combination resume, a proper layout is your best friend. So typically, you'll want to cover the following resume sections:
Contact Information
Resume Summary
Work Experience or Areas of Strengths
Skills Summary
Additional Skills
Education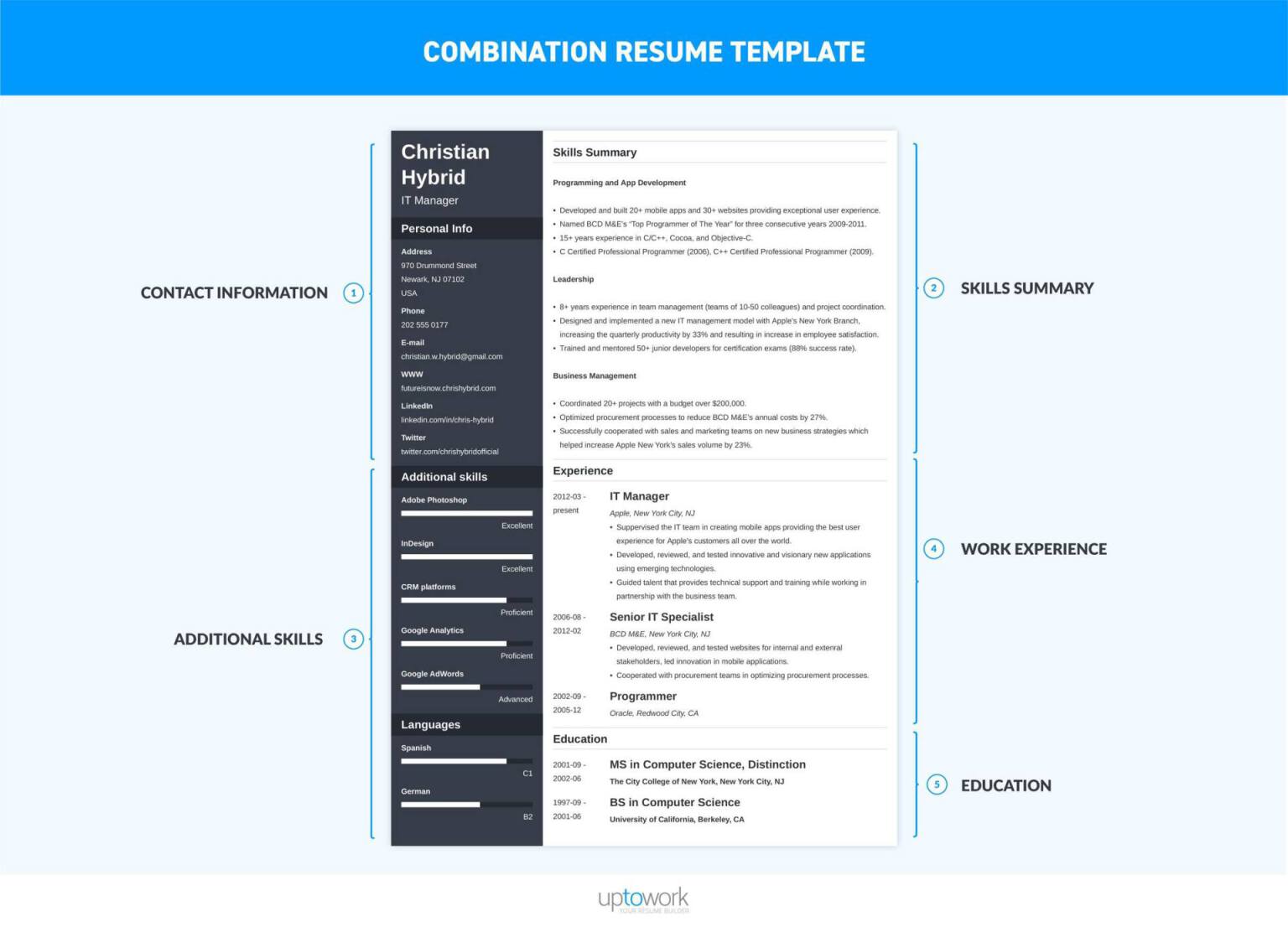 When Am I To Use a Combination CV Format
The following are the conditions to consider before using a Combination CV Format:
You are an early career professional with 1–3 years of job experience
You are a recent college or high school graduate with an occupation and a minimal work experience
You are changing careers or industries
You have worked with only a few employers but have a consistent work history
You have no gaps in your work history
If you are a recent college or high school graduate without professional experience, you should consider using a functional CV format. When starting your career, it's helpful to focus on a robust and extensive list of skills and accomplishments.
If you have professional experience, you should consider a chronological CV format instead. Especially for individuals applying for leadership positions, your most recent professional history and role within those organizations may be more valuable information for potential employers.
Reverse Chronological vs. Functional vs. Combination CV
| | | | |
| --- | --- | --- | --- |
|   | Reverse Chronological CV | Functional CV | Combination CV |
| Chief focus | Worl experience/education | Skills | Skills and work experience |
| Work experience section | At the top, relevant | At the bottom, irrelevant | In the middle, relevant |
| Skill section | In the middle, relevant | At the top, relevant | At the top, relevant |
| Layout | Professional and traditional | Non-conventional, confusing | Professional and creative |
| Applicant tracking software scannability | Scannable | Non-scannable | Scannable |
| Main advantage | Easy to read, universal | Conceal flaws in work history | Emphasizes and validates skills |
| Main weakness | Very common might require tweaking | Suggest you're hiding something | Suitable for few candidates |
| Good for | Virtually all candidates | Creative jobs, Military transitioners, Candidates who don't want to seem overqualified | Career changers, experienced professionals |
| Not ideal for | Career changers | Students, experiences, professionals, career changers, entry-level candidates | Entry-level candidates, students |
To learn more, click on the video to watch a more comprehensive explanation of how to build a CV.
Conclusion on How To Make A Curriculum Vitae
In conclusion, with the update above on How To Make A Curriculum Vitae, one is now aware of the types of CV formats and how to build a Curriculum vitae from scratch as a beginner/without knowledge.
As you get updates about the How To Make A Curriculum Vitae in 2023/2024, please bookmark our website Aimglo and share this post with your friends.
Here at Aimglo, we provide you with Recruitment, Scholarship you need, and Latest Job Offer; if you find these Articles helpful, kindly like, share, and comment; share this post with your friend who may need this kind of updates; last Updated: September 18, 2023
Also, don't forget to bookmark our website Aimglo, as we continue to provide you with the best School updates, Jobs and job related topics like How To Make A Curriculum Vitae 2023/2024, with all Articles posted on our Aimglo being Accurate and free from Misinformation.
Feel relaxed as you are entitled to the authentic information on this page about How To Make A Curriculum Vitae  2023/2024.